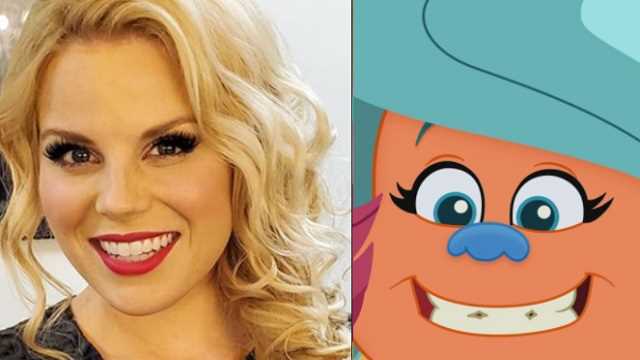 TROLLSTOPIA Season 6 Exclusive Audio Interview with Talented Singer and Comedian Megan Hilty
The new season of TrollsTopia marks the sixth installment of the spin-off animated series and to celebrate, we caught up with Holly Darlin actress Megan Hilty to see how she and her character have evolved!
DreamWorks has had success on their hands since they launched the musically incorporated animated film in 2016. Fast forward to now and the franchise has become so popular that not only Trolls released a spin-off series but it has and continues to dominate with an officially launched sixth season.
the anime TrollsTopia hit the Peacock and Hulu streaming platforms just a few weeks ago with the latest batch of episodes – Season 6. The cast includes the talents of Kenan Thomspon, Amanda Leighton, Kevin Michael Richardson, David Fynn, Skylar Astin, Ron Funches and Megan Hilty – the last of whom we were able to get an exclusive interview.
Before we dive into our chat with Megan, we've included the official trailer and synopsis for TrollsTopia Season 6 before then take a look for yourself below.
Inspired by the beloved DreamWorks animated films, TrollsTopia is the next chapter in mind-blowing troll adventures. Now that Poppy knows there are other musical trolls scattered throughout the forest, she bottles up her endless positivity and invites delegates from each tribe of forest trolls to live together in harmony in one grand experience that she calls TrollsTopia!
What do you think of TrollsTopia so far? are you caught up Season 6 or is this your plan for the week!
Whatever your opinion, be sure to share your thoughts in the usual place and let us know what you think of our exclusive audio interview with actress and Holly Darlin singer, Megan Hilty.
Known for her work on Smash and Wicked, professional singer and comedian Megan Hilty joins us on the show to talk about her character in TrollsTopia Season 6. Since Hilty was on the show before we can build on that and really see how Holly Darlin' and even Megan herself have evolved in the meantime.

We discuss a potential spin-off series featuring the characters played by Kelly Clarkson and Hilty herself as well as the general future of Holly Darlin' here; f. It's a fantastic time and Megan is always filled with laughter, check it out and I hope you enjoy!
TrollsTopia Season 6 is currently streaming on Peacock and Hulu.