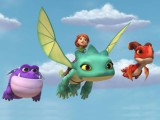 Kidscreen »Archive» Peacock gets a new DreamWorks spin-off
Peacock is preparing to launch a new spin-off series How to Train Your Dragon from DreamWorks Animation on November 24.
Dragons Rescue Riders: Heroes of the Sky Continues the adventures of Viking twins Dak and Leyla as they team up with young dragons to protect their home. Jacques Thomas (Dragons: Race to the Edge) and Brian Roberts (Vegetable tales) are executive producers.
The new show was inspired by the preschool series from DreamWorks Animation Dragon Rescue Riders, which premiered on Netflix in 2019. The CG-animated comedy-adventure focuses on the same siblings and was also produced by Thomas and Roberts.
Peacock also asked DreamWorks Animation to produce a special called Madagascar: a little wild goose hunt for the holidays who sees the gang reuniting a lost goose with its family. This is executive produced by Johanna Stein (Kung Fu Panda: Paws of Fate) and Dana Starfield (Monster High: Welcome to Monster High) and is slated to join the streamer's lineup on November 26.
These are just the latest DreamWorks spinoffs for Peacock, who announced he's picked up a new series The Croods: family tree earlier this year. Featuring two families struggling to live together in prehistoric times, Family tree follows the franchise's two 2D feature films and animated series Dawn of the Croods, which premiered on Netflix in 2015.