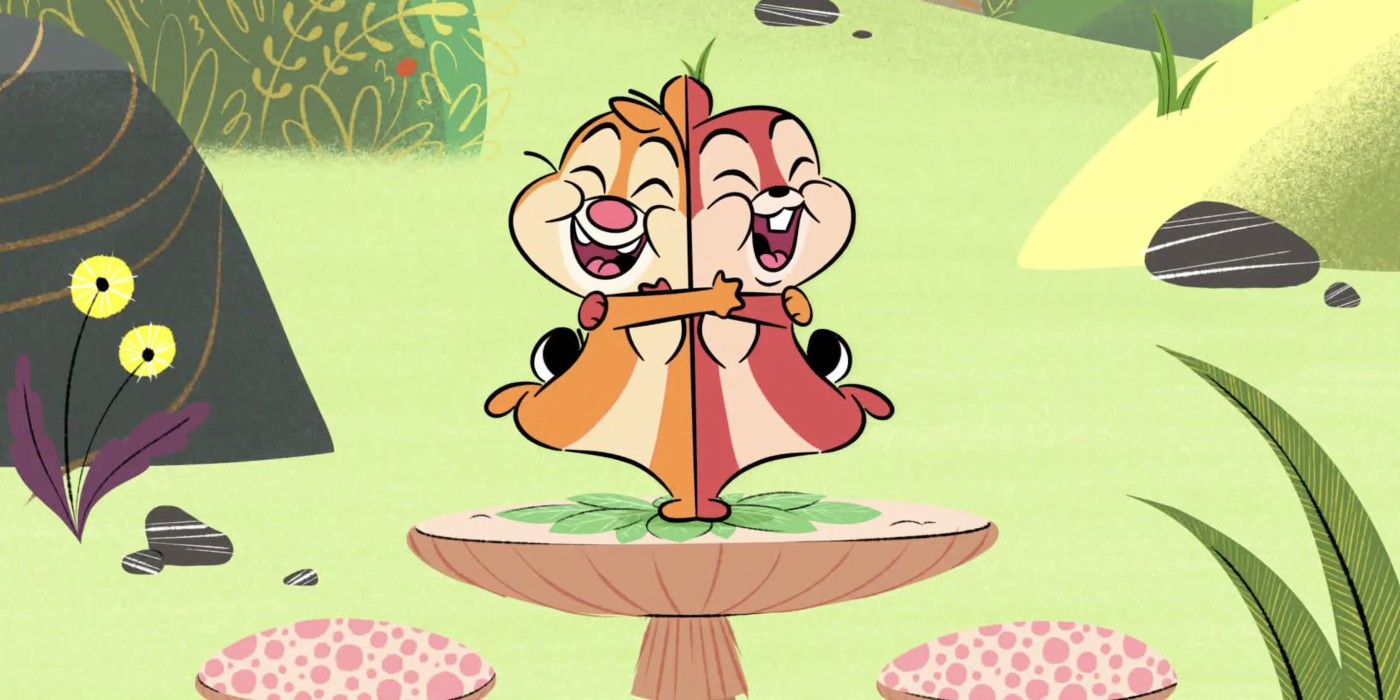 Disney + 's Chip' n 'Dale series releases adorable first trailer
Disney + is releasing a trailer for Chip 'n' Dale: Park Life, an animated series that follows Chip and Dale's misadventures in a large city park.
Adorable chipmunks Chipmunks and Dale get a taste of the big city in the Disney + animated series trailer Chip 'n' Dale: Park Life.
Life in the park Season 1 will consist of twelve episodes comprising three seven-minute stories, each focusing on the misadventures of the eponymous duo as they adjust to life in a large city park. The trailer shows Chip and Dale engaging in all manner of silliness while coming face to face with iconic Disney animated characters like Mickey Mouse's pet dog, Pluto, and Bruno the dog.
RELATED: Everything Coming to Disney + August 2021
Chip 'n' Dale: Park Life is directed by Jean Cayrol, former background artist and director of the layout of the French animated series Oggy and the Cockroaches. Cayrol's companion Oggy alum Marc du Pontavice is here executive producer, with Vincent Artaud (Oggy and the Cockroaches: The Movie) acting as the composer of the show. The animation was also provided by Xilam, the French studio behind the Oggy franchise, as well as the 2019 DreamWorks Animation remake of the classic cartoon series Mr. Magoo.
As with other recent Disney + series, Chip 'n' Dale: Park Life will air new episodes on Wednesday rather than Friday. This is part of the streamer's efforts to avoid directly competing with Netflix and Hulu, which release their shows on Fridays. Although this trend technically started with Loki Season 1 in early June, it only became official Disney + policy when Monsters at work debuted on July 7. With Loki attracting a considerable number of viewers, the streamer hopes to build on that momentum by premiering the Marvel animation. What if…? series on August 11, with new episodes on Wednesdays in the weeks that follow.
RELATED: Marvel's What If …? Suddenly is more vital to the MCU than we thought
following Life in the park, Chip and Dale will return in the live-action / CGI Chip 'n' Dale: save the rangers movie. The exclusive Disney + movie is based on the popular Disney Channel animated series, which sees Chip and Dale form a detective agency with an eclectic team that includes Australian mouse Monterey Jack, a skilled inventive mouse, Gadget Hackwrench, and loyal sidekick from the Monterey Zipper house fly. Akiva Schaffer is directing the film, with John Mulaney and Andy Samberg lending their voices to Chip and Dale.
Chip 'n' Dale: Park Life will air on Disney + starting July 28. The Chip 'n' Dale: save the rangers The film is expected to reach the streaming service in the spring of 2022.
KEEP READING: Loki's Season Finale Audience Surpasses WandaVision, Falcon, Winter Soldier
Source: YouTube
MCU Theory: Only Doctor Strange Can Stop The Next Big Threat
About the Author