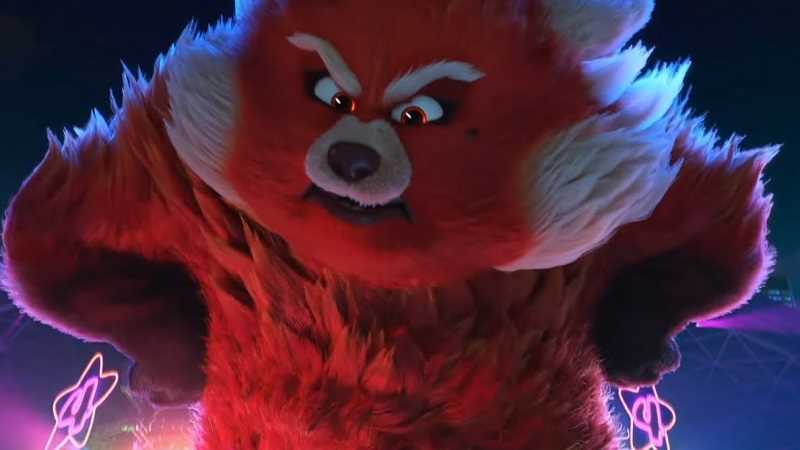 Director Domee Shi Shares Some Early Ideas For The Film's Epic Final Battle (Exclusive)
In our recent conversation with turn red director Domee Shi to discuss the Pixar film's digital and Blu-ray release, the filmmaker shared some of the early ideas they had for the epic final battle.
turn red – which has a fresh score of 94% on Rotten Tomatoes – tells the story of Mei Lee, a confident and dopey thirteen-year-old girl torn between remaining her mother's devoted daughter and the chaos of adolescence. And as if the changes to her interests, relationships, and body weren't enough, whenever she gets too excited (which is almost always the case for a teenage girl), she transforms into a panda. giant redhead!
WARNING: Some possible SPOILERS To become red, follow!
Earlier this week, we interviewed director Domee Shi about her work on the film (check back here on Tuesday, the same day turn red arrives on Digital, for that). During our chat, the filmmaker revealed if the animated adventure was still planned to end with Mei's mother transforming into a Kaiju-sized red panda, sharing some of the other ideas they had. for the final battle.
"It evolved. I think in the very first draft of the movie…it was always going to be a Kaiju battle, but Mei was fighting a completely different character," Shi revealed. "She was fighting her cousin, and it was a completely different type of movie. I think when we showed two, we decided the story of her and her mother, so the battle of Act 3 was supposed to be between her and her mother."
"That's when we introduced the Mama Kaiju Battle, but it evolved a lot. There were versions where Mei grew as big as Ming, and it was these two giant mother-daughter monsters that were going wild in Toronto. There was a version where they completely ran all around Toronto," adds the director in the video above. "We saw other landmarks that they destroyed, but then I think the scope got too big and the metaphor became a bit last because at that point [Laughs] it was just destruction and we were like, "Wait, isn't this supposed to be about a mother and her daughter and not a Kaiju movie?" on that.
"We remembered" Shi concluded, "that it's a much-enhanced, over-the-top version of a mother/teenage daughter fight in the living room, but blown up on a grand scale."
If you've watched any of the set-piece documentaries on Disney+ about Pixar and Disney Animation's approach to storytelling, you'll know that movies like turn red often go through several iterations. Obviously, that was the case here, as a battle between Mei and her cousin or two huge red pandas rampaging through Toronto definitely seems a far cry from what we ended up seeing.
However, given how perfect the ending the film was and how well it worked, we think Shi and the Pixar team made the right call. If we do get a sequel, however, the more red panda Kaijus, the better…
Turning Red is available on digital April 26 and Blu-ray May 3.